1. GET TO KNOW THE MENU
Our curiosity made us go to San Francisco in order to see what makes Le Marais bakery so special. One of the most pleasant surprises was the menu that includes much more than just pastries.
Salads, burgers, sandwiches, soups, eggs and breakfast… Honestly we were more than pleasantly surprised by their vast catalouge.
What really impressed us was different creative ways in which Le Marais combined french pastries with other dishes like egg sandwich, brunch for two, bacon croissant toast and many others. This mix was definitely their unique touch on the modern breakfast but also a statement that solidified them as a unique catering facility.
Wether you are trying to just have a quick bite because you're in a hurry or want to get a wholesome dining experience we can confidently say that you've come to the right place.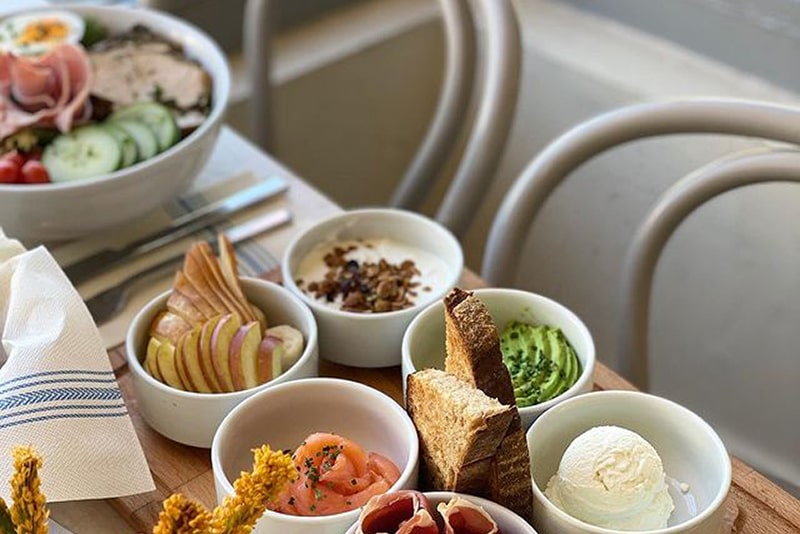 2. FUSION OF FRENCH AND NORDIC
So many times people that visit big cities fail to recognzie hidden gems and focus on main attractions. Don't get me wrong sightseeing the grand spots should always be a priority but you shouldn't neglect exploring the city.
It is almost guaranteed that you will find some concealed locations that may leave you with a unique experience. In San Francisco Le Marais Bakery is definitely one of those.
Besides their beautiful meals this pâtisserie enchants with its beautiful mix of Scandinavian design and French Classy.
We can clearly see the influence of Nordic style in the minimalism that dominates the interior but also when we steer our attention to the Wishbone chairs which are obviously Scandinavian. Still, the space steers more towards French in terms of the overall aesthetic and the theme.
The interior is mostly business casual which means that more often than not you'll see corporate people inside. The location of this Bakery Bistro is also ideal to get a coffee with friends or colleagues, especially because both inside and outside La Marais is very spacious.
Also one of the key factors of why La Maris is so inviting is because it also has that french cafe kind of vibe. It is possible that due to its aesthetic some people get an impression that they walked into a coffe shop only to be pleasantly surprised.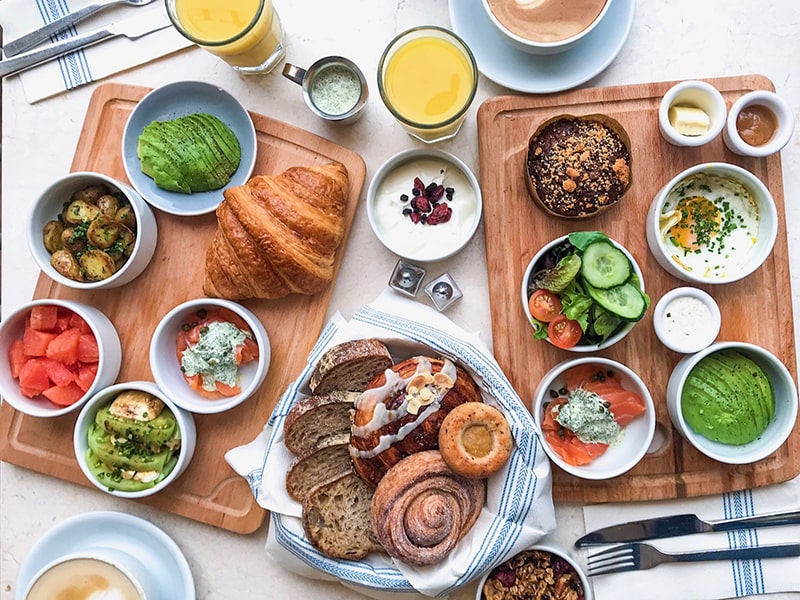 3. CHOOSE YOUR MEAL
Since Le Marais has so many dishes to choose from we only want to give you our personal favorites. We also want to make sure that we give present you a dish from every category so you can know what to order even if you've never been there.
Brunch For Two
If you're about to have a breakfast with a colleague, friend or a partner this one never misses.
Farm eggs and smoked salmon are beautifully complimented with seasonal fruit, avocado and house made granola. This dish also incorporates french cuisine into its structure by adding two pastries and organic yogurt, giving you a rich breakfast experience. Ideal for a strong and tasty breakfast brunch for two surely won't leave you hungry.
Turkey Club Sandwich
For the ones who want to say: "I'm full" but maybe want to takeaway their food, or just not use cutlery sandwich is without any doubt the best solution. The choice is vast but Turkey club is a classic and we think that it is almost always the right choice.
While greens and brioche and salad make it easy for your stomach, ham and bacon will be the center of attention, mixed with turkey of course. All that's left is to enjoy!
French Onion Burger
La Marais's main dishes or how they like to call them specialties were definitely worth to try.
If you're looking for a no brainer main dish that you just can't go wrong with, do consider trying French Onion Burger. Essentially, it's a beef burger with comte cheese, bacon onion jam and tomato. To give it more character, savora sauce and brioche fun are added with fries and salad. This all adds to a more richer and juicer taste that every good burger has.
French Onion Soup
If you're a vegetarian or just want an easy dish, there actually is a soup that you can order at Le Marais Bakery. The ingredients are all healthy and they include caramelized onions, gruyere and levain crouton. It can be a good appetizer but also an easy hors d'oeuvre.
Salades
There are so many creative salads that you can choose from on the menu. Our personal favorites are parisienne, mozzarella balsamic and cesar. While Parisienne can be a whole dish due to its ingredients: ham, turkey, boiled egg, gruyere and tomato Cesar and Mozzarella are better as add ons to another dish.
4. INCORPORATING THE WISHBONE CHAIR INTO THE INTERIOR
As a furniture piece, wishbone chair is definitely one of the most recognizable and versatile pieces. It is often used in different catering facilities, restaurants and hotels but people are also starting to use it more and more in their offices, health facilities and business spaces as well.
In your home you can incorporate it beautifully in your living room, frontyard, backyard and balcony areas. Although originally designed for dining, wishbone chair is very comfortable and is often used for social events.
Possibilities are really endless with this furniture piece. It all really depends on your creativity and how you want to incorporate it into your home space.