Extended Guarantee
Up to 5-year guarantee
Learn more
One of the reasons you might be shopping with us is that you recognise the superior quality of our pieces. And just as we want our furniture to be the best you can find, we want our promise to you to be equally superior. That`s why, while most furniture manufacturers only offer a 1 year warranty, we offer up to 5 year warranty.

Aftercare
Free 2 year aftercare
Learn more
To give you a seamless shopping experience, byBESPOEK introduced a 2-year aftercare program for our dear customers. We want to make sure that your furniture lasts and maintaining it well is the key component in making that happen. So, how does this work? It`s pretty simple actually - we assign you our aftercare specialist that you can contact at all times for any information you need regarding the cleaning and maintenance of your furniture. It doesn`t matter if it`s an aftercare product recommendation, a piece of general information, or advice, our specialists stand at your service to ensure long-lasting quality.

Easy Delivery
Together with FedEx Ground, we deliver your chairs directly to your front door.
With a vintage appeal, ensuring a timelessly elegant character, our premium Elbow Dining Chair brings back all the mid-century modern features we've all known and loved throughout the years – from a minimalist backrest, formed around a gentle cradling curve, to the foam-padded seat upholstered in a luxurious leatherette, and solid premium-quality wood used for the main construction. Our premium reproduction of the famous Elbow Chair will easily find its place in any modern and stylish home.
For anyone who loves to feel special, our limited edition Elbow Chair combines two of some of our best features: a woven seat from an iconic Wishbone Chair and Elbow Chair's distinguishable curved backrest, bringing you a true quality that is matched with beautiful aesthetics.
If you prefer darker tones, walnut is the right choice, while the ash wood fits the lovers of brighter look perfectly.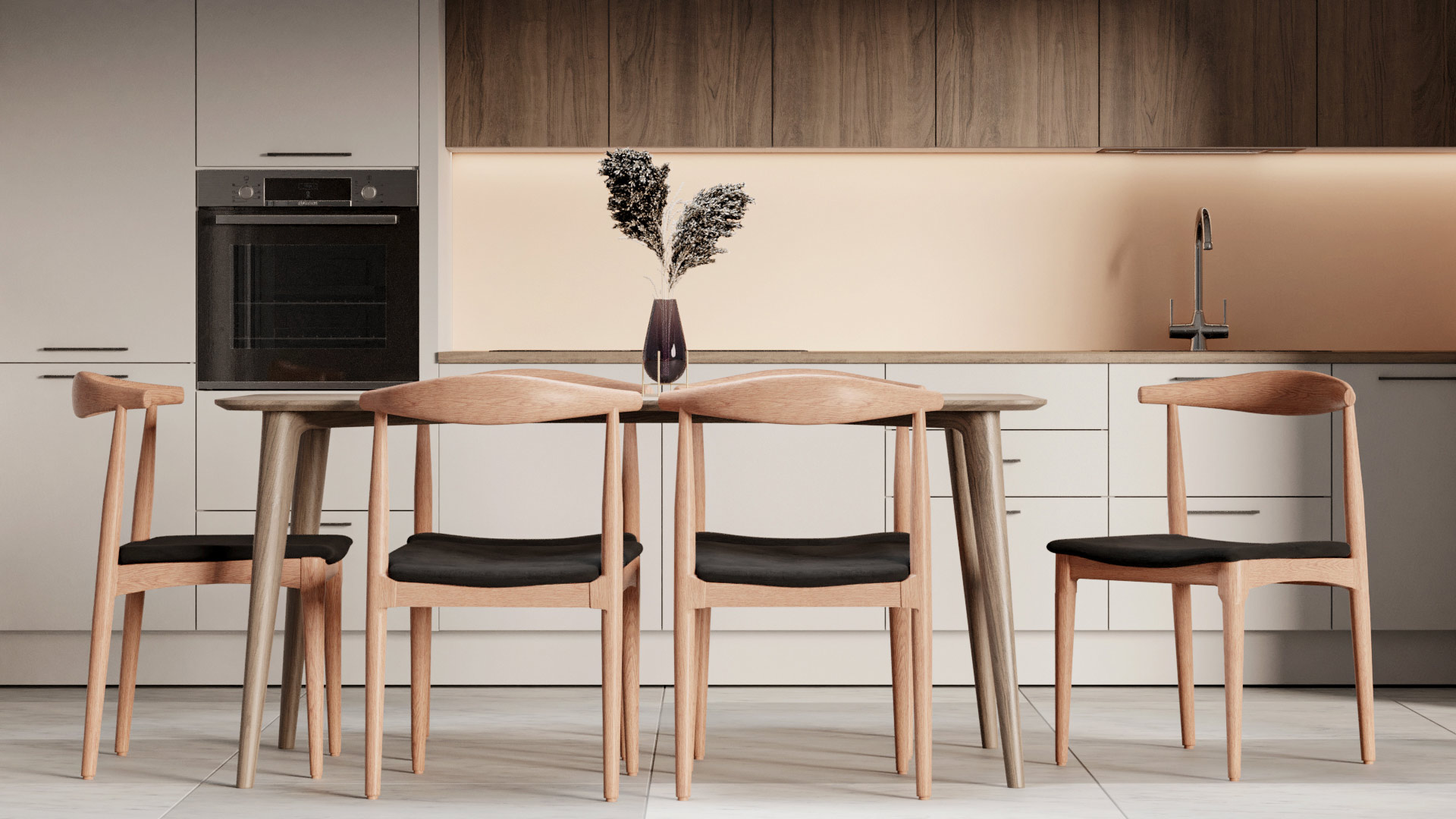 Sturdy and elegant
A stylish and simple masterpiece, our Elbow chair is designed primarily using solid wood. This wood is both sturdy and elegant, paired with a seat of upholstered leatherette filled with high-density foam.
Built for longevity
Our craftsmen made our Elbow chair in such a way that it, not only looks fantastic but is also going to last for years to come.
FAQs
Do you sell Elbow Chair in Walnut?
The Walnut version of our Elbow chair is one of our most popular dining chair versions. We take great pride in the quality of our walnut chairs and the Elbow chair is surely not an exception. Durable and long lasting this dining piece will make every gathering much more enjoyable as the time passes.
Is your Elbow chair a replica?
Yes, our chair is a premium reproduction of one of the most iconic designs made by one of the most influential Danish designers. Our mission is to bring you the best quality furniture that can be available to any type of modern home without overpricing. Using only the best solid wood our craftsmen made sure to implement the most modern manufacturing techniques to create a design piece that will stand out from the rest.
How comfortable is the Chair?
Despite its looks, Elbow chair is one of the most comfortable designs for any type of modern dining. With the backrest that is made to perfectly coexist with any body shape, this wooden masterpiece will make any gathering more relaxed. The firm structure ensures incredible durability while the materials provide security for long-lasting quality.
Does this item require an assembly?
No, it doesn't. It arrives fully assembled.
How comfortable are the chairs?
The quality and the comfort have always been the strongest points when it comes to our products. The comfort ratio varies since some chairs are specifically made for comfort but be sure that every single one matches the standard of its reputation.
Where are the products made in?
The chairs are made in our overseas factory near the Yellow Mountains in Eastern Asia. Also, they are handmade by our craftsmen, which means they are crafted with special care and exceptional attention to detail.
How to maintain and clean my Elbow Chair?
You should start by mixing the water solution with dishwashing soap. Dip the soft cloth into the solution and wipe the entirety of the wood. Always make sure that you are using a damp cloth instead of a wet one. Don't saturate the wood and rinse your cloth often as well.
Are Elbow Chair just made for dining?
Absolutely not. Even though our Elbow Chair perfectly matches the need of any dining room type it is very versatile. Due to its amazing durability and unique aesthetics this chair looks great in so many different places such as your living room or even the backyard. It all depends on your personal taste!
How often does Elbow Chair have price discounts?
We believe that every modern home deserves the highest standard of furniture at an affordable price. We try to have sales and discounts as often as we can during the whole year! There is a high possibility that our Elbow chair is on a discount, go check it out!
Reviews
Based on 200+ reviews
Read more reviews
Perfect vintage addition
I have a house which has a lot of vintage based furniture so I was looking for a chair to fit it in. Found so many modern furniture without a slight vintage kind of look until I came across this one on your guys' website. Fits in my interior perfectly, and the quality is amazing. The delivery guy was late for 30 mins that was the only small thingy I didn't like, will still order again though.
Timothy
Very good quality!
These chairs are amazing for dining. I ordered a couple of these for my new kitchen. To be honest, I was a bit skeptical about the quality since I was buying from an unfamiliar website, but the chairs are actually amazing! Looking to buy those wishbone chairs next.
Serena
Great durability
You guys have very durable chairs. Bought these elbow ones for my living room. I am using them for two months already so I can say they are very firm and comfortable. Let's see if they last the whole year I just moved into my new home so I expect them to last long.
Kyle
Amazing design.
Received my chairs a week ago just for my family dinner. I organize a lot of events so I was really hoping I am not wasting my money with these chairs. They really looked nice so no complaints.
Jennifer
I love the chairs!
Very nice design of chairs. I put them in my backyard and they look beautiful. I really love the fact that the chairs are made from wood as it blends into the natural environment of my garden that has some trees as well.
Bree