Extended Guarantee
Up to 5-year guarantee
Learn more
One of the reasons you might be shopping with us is that you recognise the superior quality of our pieces. And just as we want our furniture to be the best you can find, we want our promise to you to be equally superior. That`s why, while most furniture manufacturers only offer a 1 year warranty, we offer up to 5 year warranty.

Aftercare
Free 2 year aftercare
Learn more
To give you a seamless shopping experience, byBESPOEK introduced a 2-year aftercare program for our dear customers. We want to make sure that your furniture lasts and maintaining it well is the key component in making that happen. So, how does this work? It`s pretty simple actually - we assign you our aftercare specialist that you can contact at all times for any information you need regarding the cleaning and maintenance of your furniture. It doesn`t matter if it`s an aftercare product recommendation, a piece of general information, or advice, our specialists stand at your service to ensure long-lasting quality.

Easy Delivery
Together with FedEx Ground, we deliver your chairs directly to your front door.
Originally introduced in the early 1960s, the Shell chair remains one of the most wanted modern pieces of furniture today. If you are someone who loves stylish interiors, this chair is a perfect choice. Combining bent plywood and luxurious leather upholstery, the famous Shell chair brings back the mid-century modern style with a bang. With its unique aesthetics and sculptural form, the Shell chair will make you sit back, relax, and enjoy the new stylish addition to your home. Available as a premium-quality reproduction. This item is not manufactured by or affiliated with the original designer(s) and associated parties.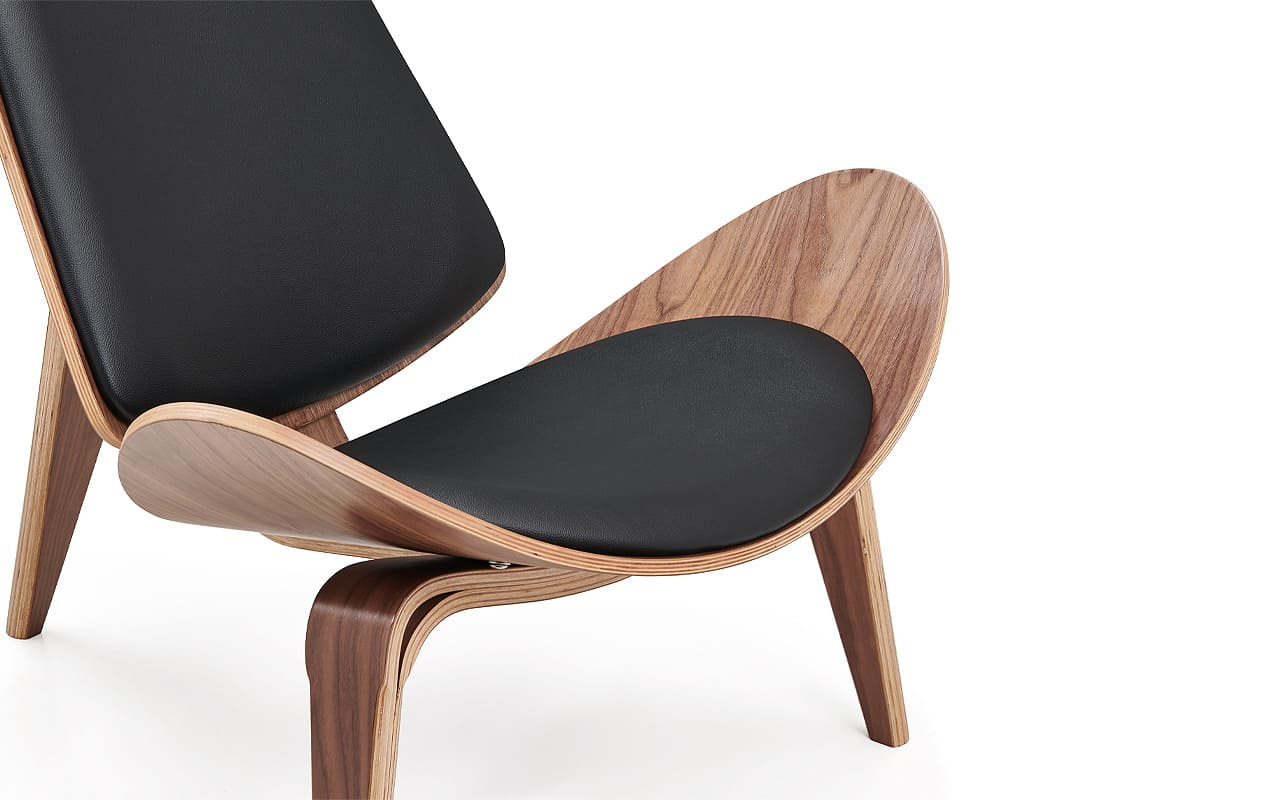 Premium materials
Only the plywood of highest quality is used for the production of our Shell Chairs, with the traditional steam-bending technique being used to shape the material without compromising its structural integrity.
An iconic shape
With its one of a kind design, expressive silhouette and unmistakingly modernist appear, the Shell Chair is an ideal accent piece for any modern home which is sure to catch some well-deserved attention.
FAQs
How long is Shell Chair on sale?
We always have some kind of sales going on! We really want to make our premium reproduction available for every modern home. Whether you want to get our Shell Chair in black, oak, or walnut the price is always in perfect balance between affordability and quality of our products. We wish you the best shopping experience ever!
Is Your Shell Chair inspired by Hans Wegner's original reproduction?
Yes, our Shell Chair is a Premium Reproduction inspired by the original. We want to bring the best quality of the furniture to every modern home and for that purpose, our craftsmen use only the best types of materials. Premium vegan leather and plywood base covered with oak and walnut veneers give our design a cutting edge that will make your interior stand out from the rest.
What are the dimensions of your Shell Chair?
Our Shell Chair dimensions are perfectly made for comfort. Whether you want to feel relaxed or experience true massage-like feeling armrests and backrests coexist in perfect harmony in order to give you unmatched quality. Unique design made to stand out from the rest will surely stand by your side for many years to come.
Does this item require an assembly?
Yes, it does, but it's very simple. You only need to screw the seat onto the base.
Where are the products made in?
The chairs are made in our overseas factory near the Yellow Mountains in Eastern Asia. Also, they are handmade by our craftsmen which means that they are crafted with special care and exceptional attention to detail.
What is the return policy?
You should always enjoy your lovely purchases. However, if you are unsatisfied with the received item(s), you can always get in touch with our customer service team. Likewise, be kindly noted that return shipments are independently arranged and covered by the customer and that we are only able to accept returned items that are in original packaging and like-new condition.
Where is the perfect fit for my Shell Chair?
With such a unique and attention grabbing design that is a Shell Chair you need to find the perfect spot to place it in your home. Our warm recommendation is surely your living room and office environment as it gives this amazing piece the most room to shine. Of course based on your personal preference you can put it in so many different rooms in the house so it can match your taste.
How comfortable is the chair?
Comfort is surely one of this chair's strongest points without a doubt. Unique seat design that looks welcoming at all times makes a statement when it comes to feeling relaxed. While perfectly coexisting with the backrest this chair is created to fit any type of body shape. The only thing left is to read a book or just take a short nap.
Reviews
Based on 200+ reviews
Read more reviews
Perfect retro look
My interior always needs to be stylish but I love that retro feeling to it. I ordered your shell chair not too long ago. I liked the price and was hoping that I would get the same as displayed on the website. I am using your shell chair 2 weeks already and I can say I am pretty satisfied with what I've got. It fits me perfectly.
Veronica
I love the vegan option!
I am a vegan so it was very good that you guys have the vegan leather available. I ordered one with Premium Vegan Leather and Plywood. Looks pretty good, I am satisfied. Maybe I will order a lounge one now.
Jacob
Easy to assemble.
Good chair! I was bothered a bit that I needed assembly but it was pretty easy, and my son helped me to screw the seat into the base.
Sasha
The chairs are very durable
Oak veneer of the shell chair is pretty fine looking. Chair looks durable and it was very comfortable when I tried sitting on it. I think ottoman would fit this one as well as on the lounge but nevertheless great quality!
William
Very comfortable!
Gosh such a weird design of the chair but fits the back so perfectly! Looks like it's made to be comfortable. I hope it lasts long also! Received them a week ago, walnut ones.
Hannah