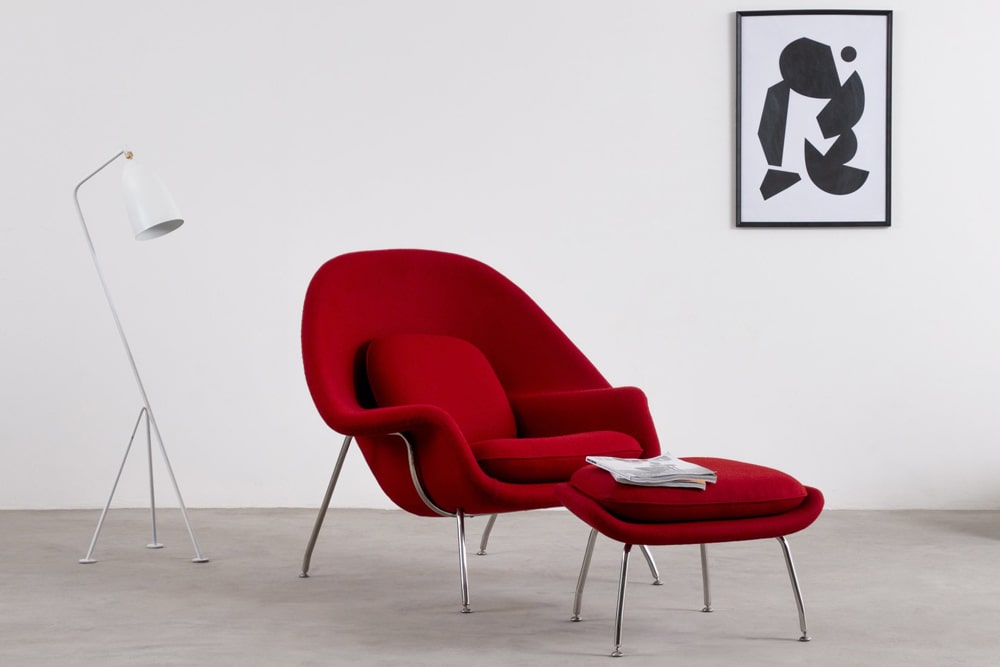 1. WHY RUBY RED STEALS THE SHOW?
It is known that the comfort of the Womb chair is one of the main reasons why red gained such massive popularity over the years. Its standoffish nature makes it perfect for any type of modern living room.
Ruby red perfectly captivates that attention-grabbing segment you surely need in your interior.
If you are someone who loves to have high attraction pieces that will leave everyone stunned you should consider this gem-like shade as your primary choice.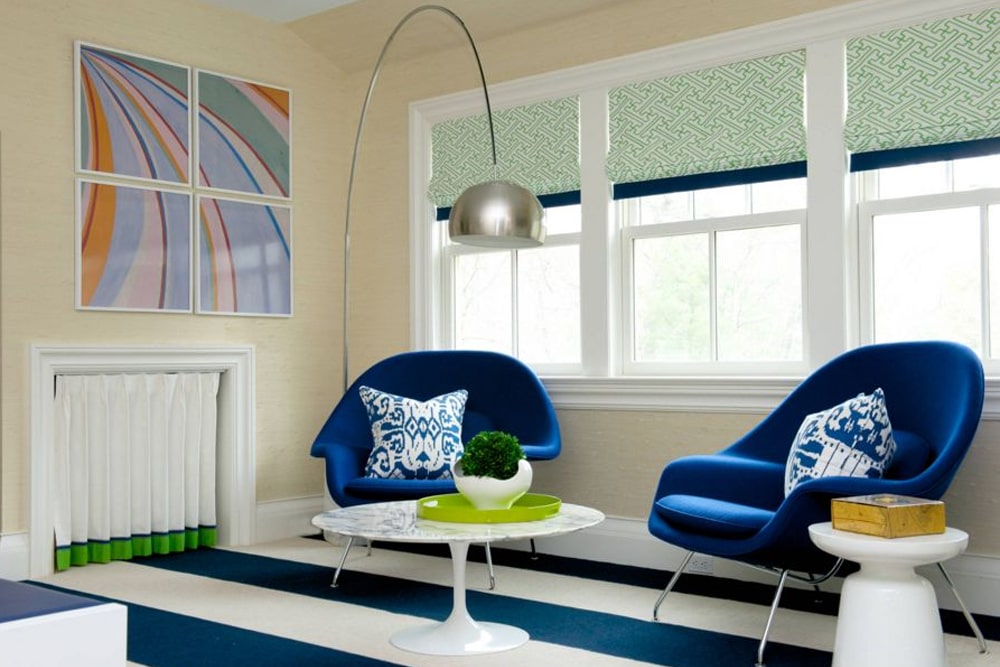 2. IS INDIGO BLUE THE ONE?
Opposite to ruby red indigo blue has some different attributes that in its own right make your womb chair unique and different. The color itself has some crucial influence on the body and the mind.
Often associated with the spirit this color can cause the body to activate chemicals that enhance feelings of rest and tranquility. Some people also believe that this color helps in slowing the metabolism and suppressing appetite.
In a nutshell, it can be great for your chair if you want to add a sense of calmness while balancing the mood in the living room.
Indigo blue can be a great choice if you are someone who cares more about the balance and overall peaceful energy in your home and it is also a good color to represent a sense of class.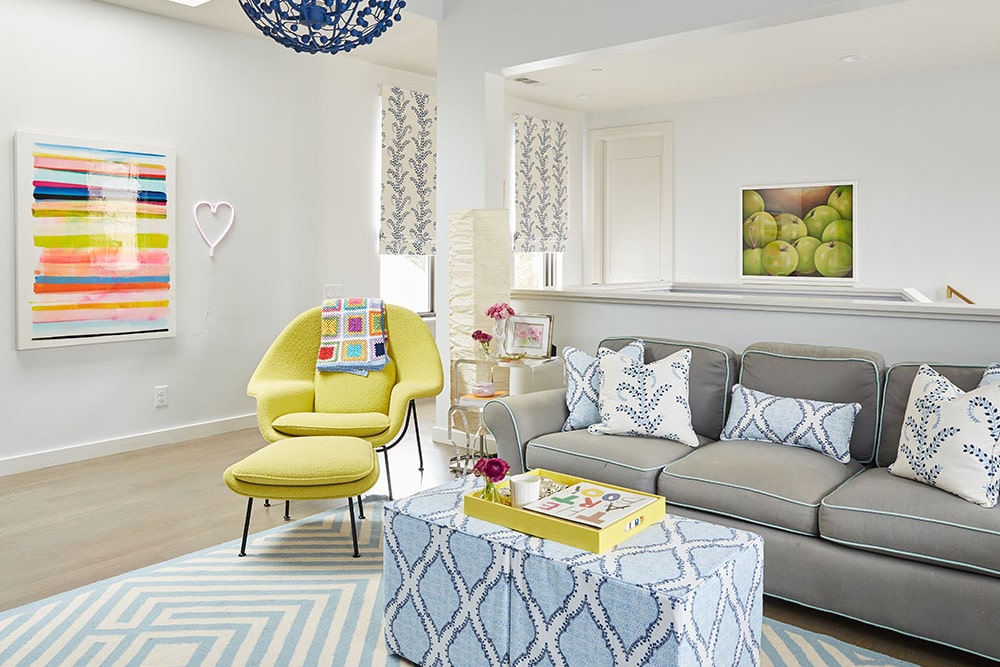 3. CHARM OF CHARTREUSE
This magical color can be a true stunner in your home and if placed correctly it can give your interior  that feels refreshing, luxurious, and above all else very creative.
Chartreuse has a lot of positive references as it represents youth, happiness, energy, and enthusiasm.
Having this color in your interior can increase one's mood, energy, and creativity so it can be a very good choice for your brand new Womb chair.
However, you should have in mind that to chartreuse with all the other furniture your interior must have a decent variety of colors.
The reason for this is very simple.
Chartreuse is very energetic and standoffish so if the interior itself is more dominant with one or two colors this one has the potential to stand a bit too much and create a major imbalance.
Our advice is to try and decorate your interior with at least three or four different colors that are not white or cream. By doing so you will ensure that your chartreuse womb chair shines bright while still blending into the environment.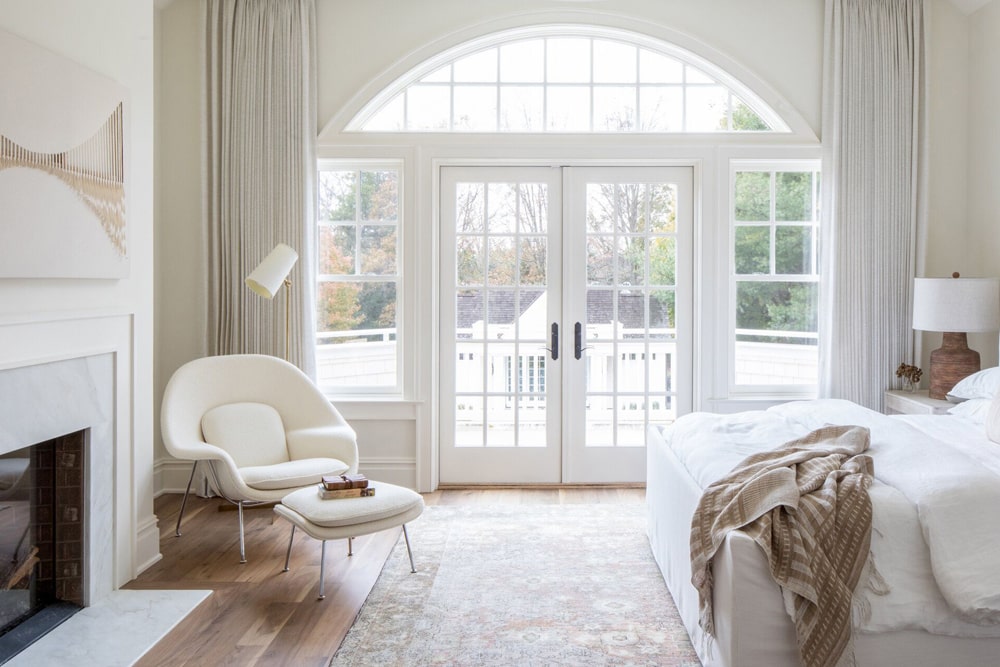 4. WHITE IS A CLASSIC
As the Scandinavian Design itself white represents simplicity.
If you are going for a classical style and do not want to experiment too much with your interior this can be a great go-to.
While combining your white womb chair with a couple of bright colors like cream and light green you can get that simplistic look that makes you feel at ease.
Another great color that you can always combine with your white womb chair is black. It is well known that opposites attract and the same can be said for these two.
Even though you might have a bit edgier look with this combo you will create so much balance and harmony so it is a thing to consider.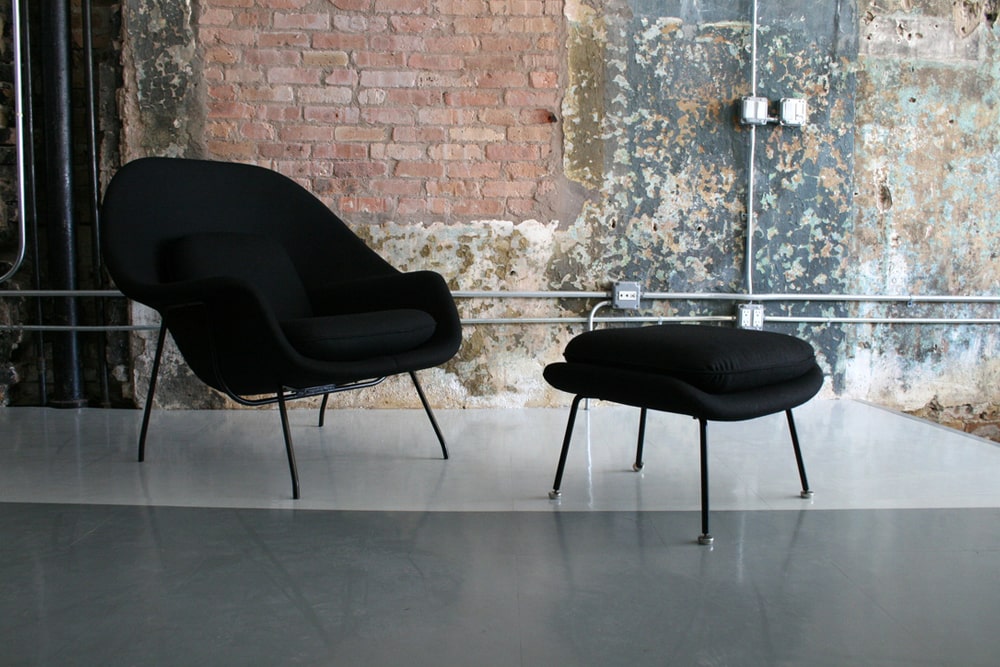 5. BLACK IS NEVER A BAD DECISION
While white can blend perfectly with both darker and brighter colors, black is one of those that works perfectly with its light counterparts and not so well with similar darker tones.
It represents power, mystery, high class, and sophistication which makes it perfect for any kind of modern interior. We believe that any modern home can be high class and black is perfect to achieve exactly that kind of feeling.
Ideally, you should place your black womb chair in the center of your living room close to a sofa. That way you will be able to express the slickness and sophistication of your home effectively.
With that in mind make sure that your sofa, walls, and all the other furniture around have that bright color vibe for your black chair to stand out.
With this, you are good to go.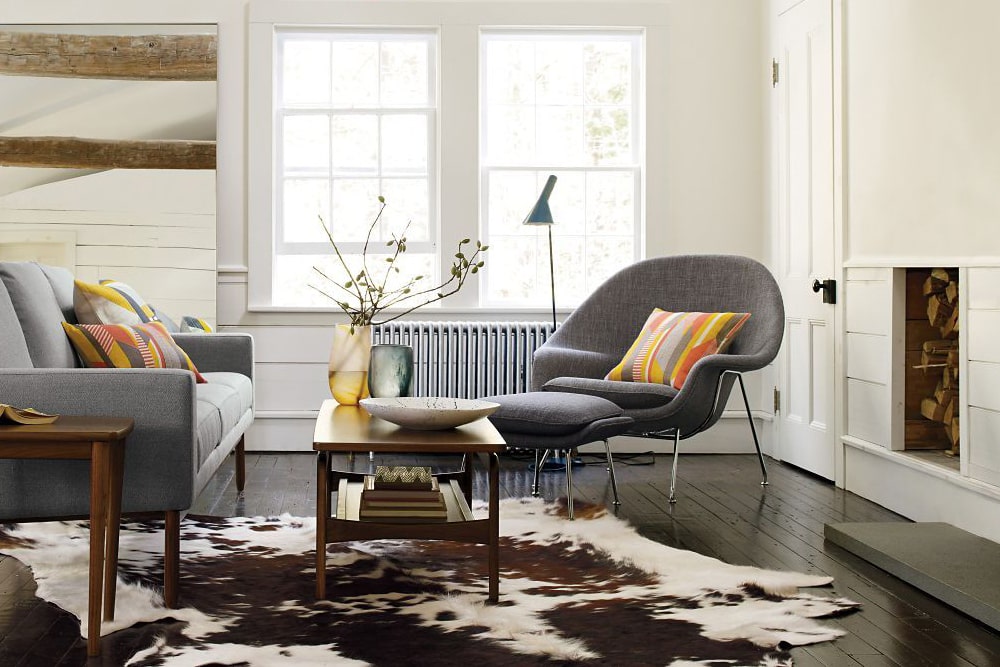 6. BEIGE VS GREY
This section is not a competition between these two colors but rather a comparison due to their similar nature.
If you are someone who likes neutral shades sometimes it can be really difficult to choose between them and find out which one fits your personality the most.
When it comes to the color beige it is worth considering if you are someone who enjoys having that warm vibe in its home.
Beige takes the best traits of brown and white. It creates a very reliable and relaxing feeling while still keeping some of that coolness most common to white.
Some experts say that beige itself is a true home color and that it can rarely be wrong to have it no matter which kind of interior you decide to take.
When it comes to grey, it is the color that above all else represents balance, neutral field and has some of that strength and power of black.
This color can be a very sophisticated one especially if you are trying to express intelligence and purity. It can look amazing in your living room but make sure that the rest of your space has some fun colors to create the balance with grey.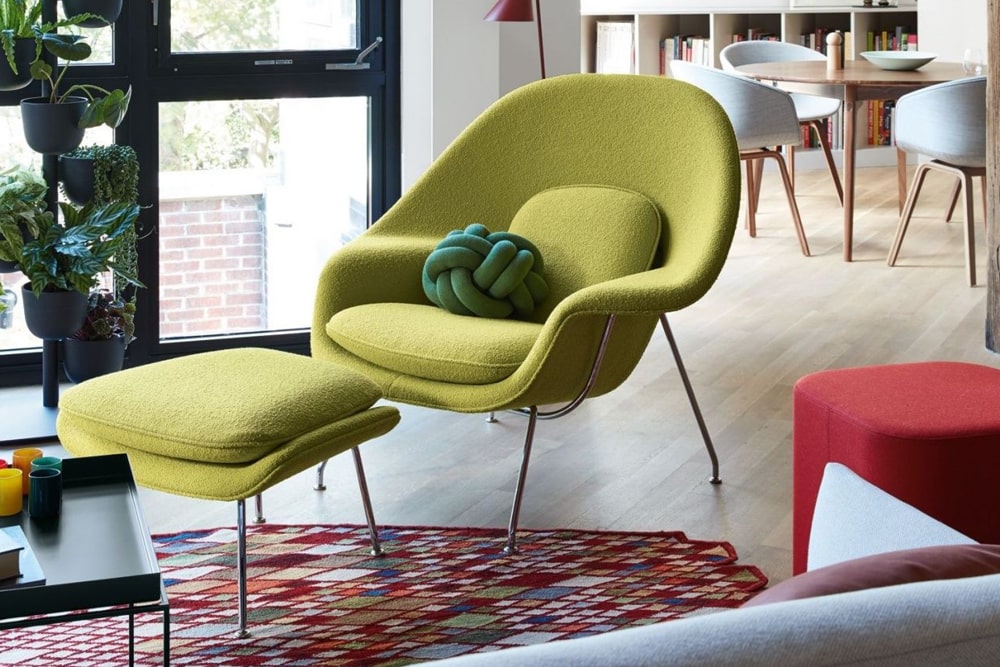 7. ADVANTAGES OF YELLOW AND GREEN
Both of these colors are very different yet very similar. Both represent nature and life and when combined you get magical chartreuse.
However, these colors have so much individual value and are worth considering as a candidate for your womb chair and ottoman.
Green is one of those colors that you can always have in your interior. It represents life, new beginnings, prosperity, and nature.
Many decor experts believe that green is a great remedy for the eyes but recently there are so many scientific studies that back up this claim.
If you are trying to breathe some freshness into your home, a green Womb chair is what your living room might need. If you can combine it with some happy colors and interior plants you can give your space some life and joy.
Also it will make everyone who enters feel great.
As it matters to yellow it is a very cheerful color that represents happiness, warmth, and hope. When combined with black, yellow creates one of the easiest combinations to read from a very long distance.
If you are searching for a way to get some energy and life into your interior this color can give you exactly that.
While green adds more to the calmness and healing, yellow stimulates communication and cheerful vibes in the room. A combination of these two colors is often a very good idea that you can use for your interior.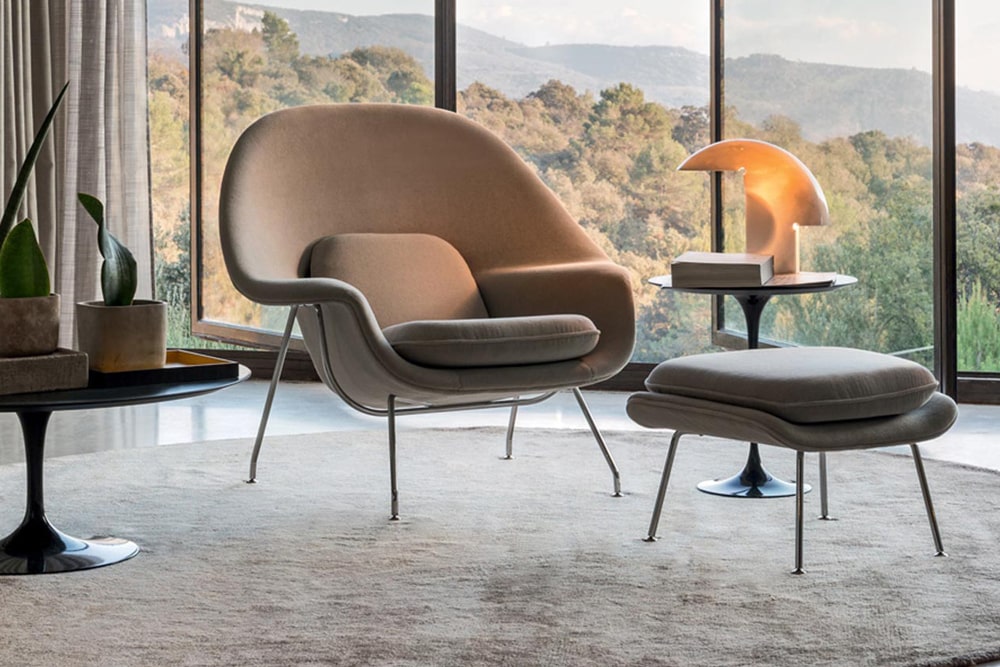 8. STYLE YOUR WOMB CHAIR LIKE A PRO
So you have seen all the options, you have done your research and you have chosen the color that fits your interior and personality the most.
Still, there is a crucial question floating in the air: How should you style it?
One thing that you should know before all that is which spaces are the best fitting for your womb chair and ottoman.
Our advice is that you should only consider putting this Scandinavian seating option in your living room and bedroom as the material and the shape of the chair is more fitting for that kind of space.
With this design, you should never hesitate to put it in the center of the room. Womb Chair is a true attention-grabbing piece that deserves all the glory.
Of course, if you want to place it on the side or in the nice corner of the room that can also be a very good thing to do.
Just make sure that all the other parts of the room are decently filled with furniture pieces so you can achieve that whole feeling in your space.
With the bedroom you should consider taking a bit of a different approach as the center of attention will always be directed towards your bed. That does not mean that your beautiful womb chair can't find a place to shine.
Try to make it a great add-on by placing it in the corner of the room next to a bed. If you style it correctly your womb chair will get the attention it deserves while still blending into the vibe of your space.