Extended Guarantee
Up to 5-year guarantee
Learn more
One of the reasons you might be shopping with us is that you recognise the superior quality of our pieces. And just as we want our furniture to be the best you can find, we want our promise to you to be equally superior. That`s why, while most furniture manufacturers only offer a 1 year warranty, we offer up to 5 year warranty.

Aftercare
Free 2 year aftercare
Learn more
To give you a seamless shopping experience, byBESPOEK introduced a 2-year aftercare program for our dear customers. We want to make sure that your furniture lasts and maintaining it well is the key component in making that happen. So, how does this work? It`s pretty simple actually - we assign you our aftercare specialist that you can contact at all times for any information you need regarding the cleaning and maintenance of your furniture. It doesn`t matter if it`s an aftercare product recommendation, a piece of general information, or advice, our specialists stand at your service to ensure long-lasting quality.

Easy Delivery
Together with FedEx Ground, we deliver your chairs directly to your front door.
The Nelson Style Bench is a high-quality reproduction of the original designed by Nelson in 1946, the Nelson Style Bench remains a landmark of modern design. These adaptations of classic unadorned Nelson benches' features clean, architectural lines; the Nelson wood base platform bench is also available in small and large. The Platform Bench is based on the classic George Nelson Bench and is the perfect complement for just about any room. Over the years the benches have been used in a variety of spaces, and as such are not just suited to the home environment, but also within commercial offices, bars, and waiting areas. Its clean and unique lines are perfect for accenting any room and will be a perfect fit for any empty space. Open slats with uniform spacing allow air and light to pass through. This item is not manufactured by or affiliated with the original designer(s) and associated parties.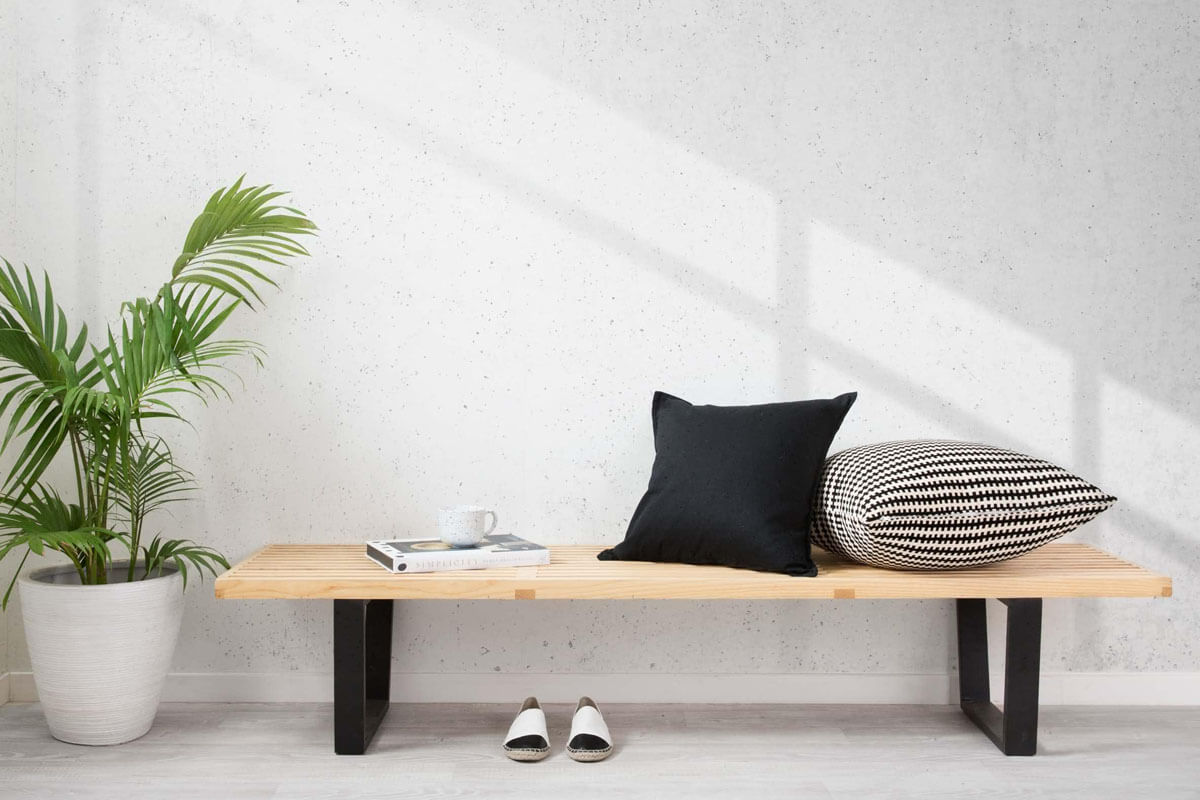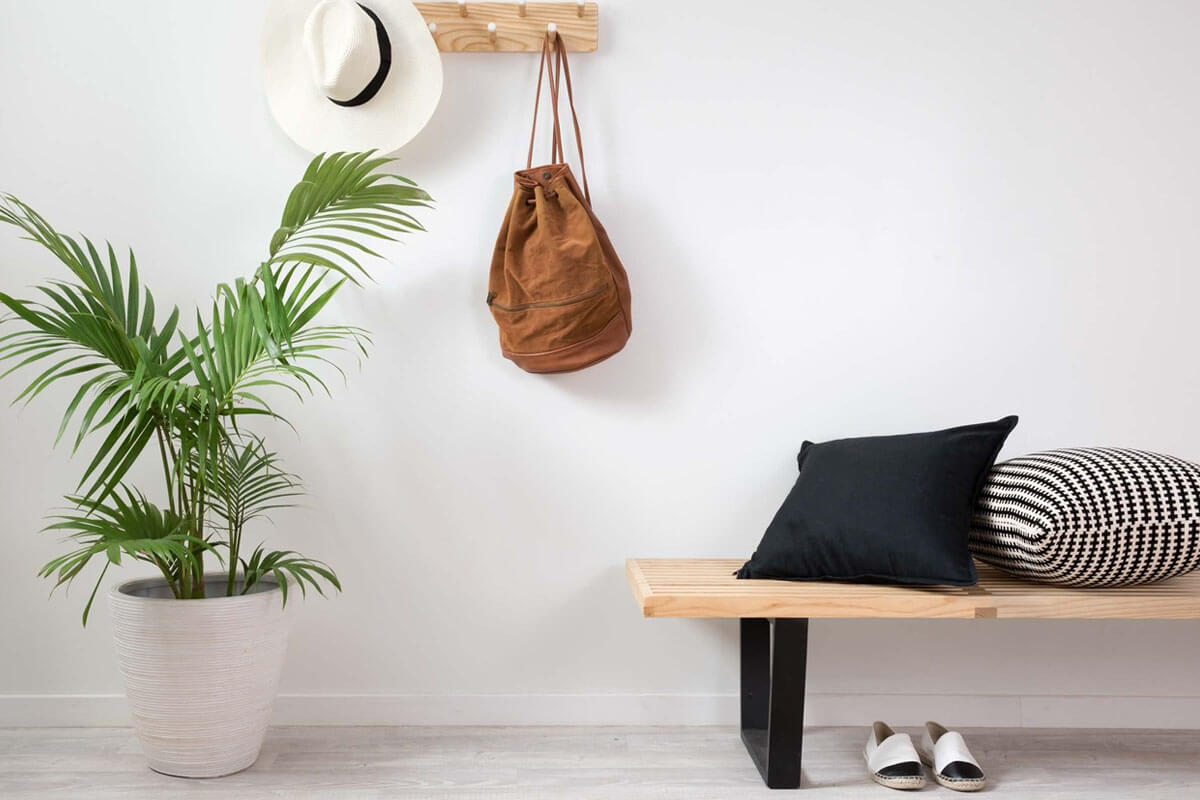 Styled Support
This Nelson Bench comes with a beautiful and subtle, almost minimalist design which will not only bring you great stability but also amazing aesthetics.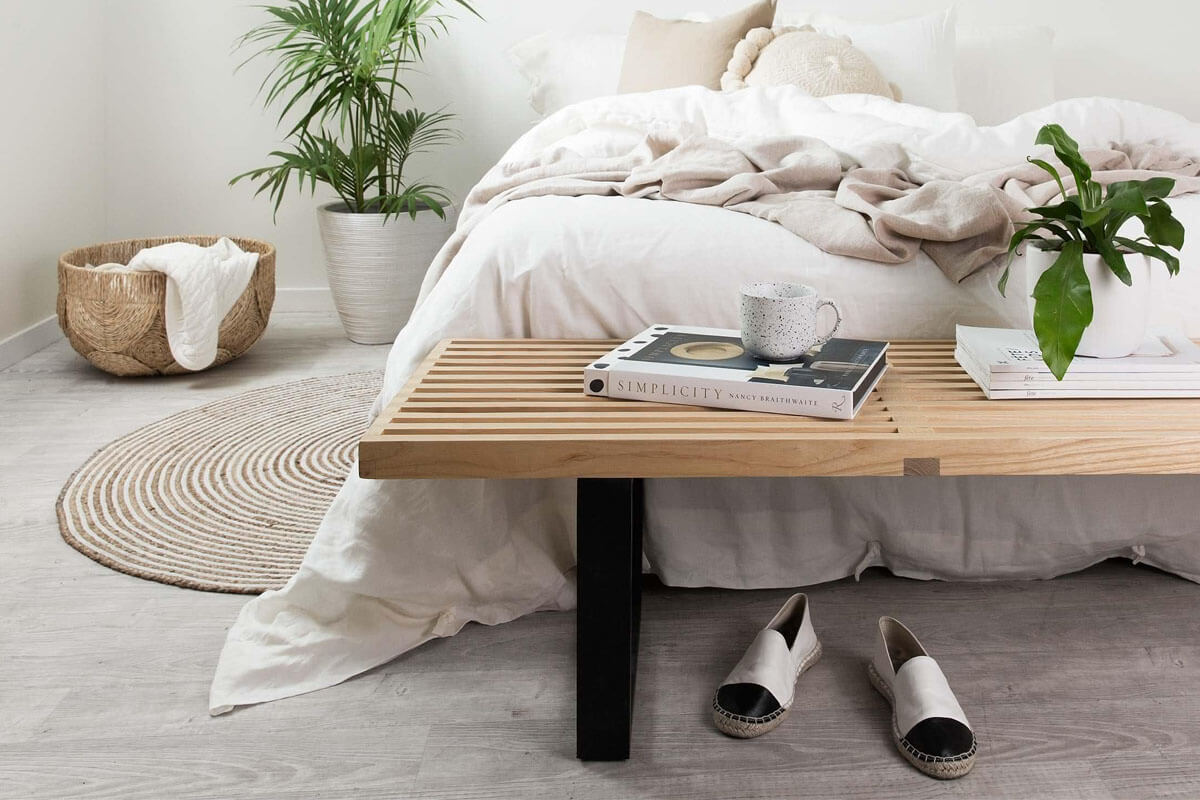 Elegant & Stable Base
The base of Nelson Bench is designed in a minimalist style that matches the sleek lines of its wood. It's perfect storing your items.
FAQs
Is your Nelson Style bench an original or a replica?
Our Nelson Style bench is a premium reproduction of the original design. Our mission is to bring you the best quality furniture that can be available to any type of modern home without overpricing and that is exactly why we focus on the product quality the most. Our craftsman dedicated many long hours in order to ensure that the materials are completely natural. Attention to detail and amazing aesthetics are definitely going to make your interior stand out while durability of the wood and iron ensures long lasting quality.
Does this item require an assembly?
Some assembly is required.
How comfortable is the bench?
Considering that this piece has much more roles than a seating option it offers a firm and comfortable seating solution. Great for rest after any kind of outdoor activities this bench can be a great relaxing place for kids after they get tired from playing around.
Where are the products made in?
The chairs are made in our overseas factory near the Yellow Mountains in Eastern Asia. Also, they are handmade by our craftsmen which means that they are crafted with special care and exceptional attention to detail.
How to clean and maintain my Nelson Style Bench?
The best option to go when you decide to clean your wooden bench is definitely a cloth moistened with water or a mild soapy solution. If you want to have a deeper cleaning of your wood you can always go with another option which is to use a soft brush and a mix of water and dishwasher detergent or oxygen bleach.
How long is the Nelson Style chair on sale?
We always have some kind of sales going on! We really want to make our premium reproduction available for every modern home. Whether you want to get our Nelson Style chair in a small medium or large version, the price is always in perfect balance between affordability and quality of our products. We wish you the best shopping experience ever!
Which materials are used to make the Nelson Style bench?
Made from Polished #304 grade stainless steel and natural wood this furniture piece is surely going to meet all the quality standards and last for many long years to come. While steel provides great stability and support wood gives this bench incredible durability.
Where is the best fit for my Nelson Bench?
Due to its versatility this amazing bench can be placed in so many places around the house. Whether it is your living room or bedroom it is a perfect choice but you can always also go with the outdoor option as well.
Reviews
Based on 200+ reviews
Read more reviews
Awesome service
I placed this bench in my bedroom right after I bought it. I must say that it is the most useful piece of furniture. I put all kinds of books and pillows there as well as some morning coffee. In my case, this bench is perfect to sit and rest as soon as I wake up from bed hahaha.
Bruno
Meet my expectations
A very durable and useful type of bench I must say. My wife and I decided to buy it for the house and it has been a great choice. Kids like to sit on it when they are exhausted from playing outside and leave their clothes sometimes. It looks great as well!
Stanley
Very durable!
I received my bench a couple of days ago, the large one. It is really useful, however, I am using it less for sitting, I am putting clothes and towels on it. It works for me perfectly!
Johanna
High-quality material.
Nice piece of furniture. It goes well with so many different designs. I matched the bench with a couple of my wooden chairs and it was such a great sight. Also, the quality is amazing.
Suzan
Top-notch detail work
The durability of this bench is really on point. I have been ordering furniture from you guys earlier and I wasn't disappointed with the quality so far. I also wanted to see if the same applies to your new products. For now, everything looks good! This bench also has a nice aesthetic touch to it. Not too bad :)
Tracy