Extended Guarantee
Up to 5-year guarantee
Learn more
One of the reasons you might be shopping with us is that you recognise the superior quality of our pieces. And just as we want our furniture to be the best you can find, we want our promise to you to be equally superior. That`s why, while most furniture manufacturers only offer a 1 year warranty, we offer up to 5 year warranty.

Aftercare
Free 2 year aftercare
Learn more
To give you a seamless shopping experience, byBESPOEK introduced a 2-year aftercare program for our dear customers. We want to make sure that your furniture lasts and maintaining it well is the key component in making that happen. So, how does this work? It`s pretty simple actually - we assign you our aftercare specialist that you can contact at all times for any information you need regarding the cleaning and maintenance of your furniture. It doesn`t matter if it`s an aftercare product recommendation, a piece of general information, or advice, our specialists stand at your service to ensure long-lasting quality.

Easy Delivery
Together with FedEx Ground, we deliver your chairs directly to your front door.
As one of the most recognizable lounge chairs of the era, we designed our Womb Chair as the most comfortable seating option. Made from danish cashmere wool, its smooth and soft feeling brings everything you need to relax after a long day of work. To create a comfortable experience, our artisans wanted to go the extra mile to ensure you are feeling at ease all the time. Combining skill and dedication, they achieved a perfect balance between a lightweight airy feeling and durability that exceeds all the expectations. Coming with a matching ottoman, this chair gives you the option to sit back and watch your favorite TV show, read a book, or even take a short power nap. You will never need to worry about leaning over due to its amazing stability so be free to feel carefree. While being a true representative of Scandinavian minimalism, this modern piece is a true attention grabber and most of the time the central point of every modern living room. Available as a premium-quality reproduction.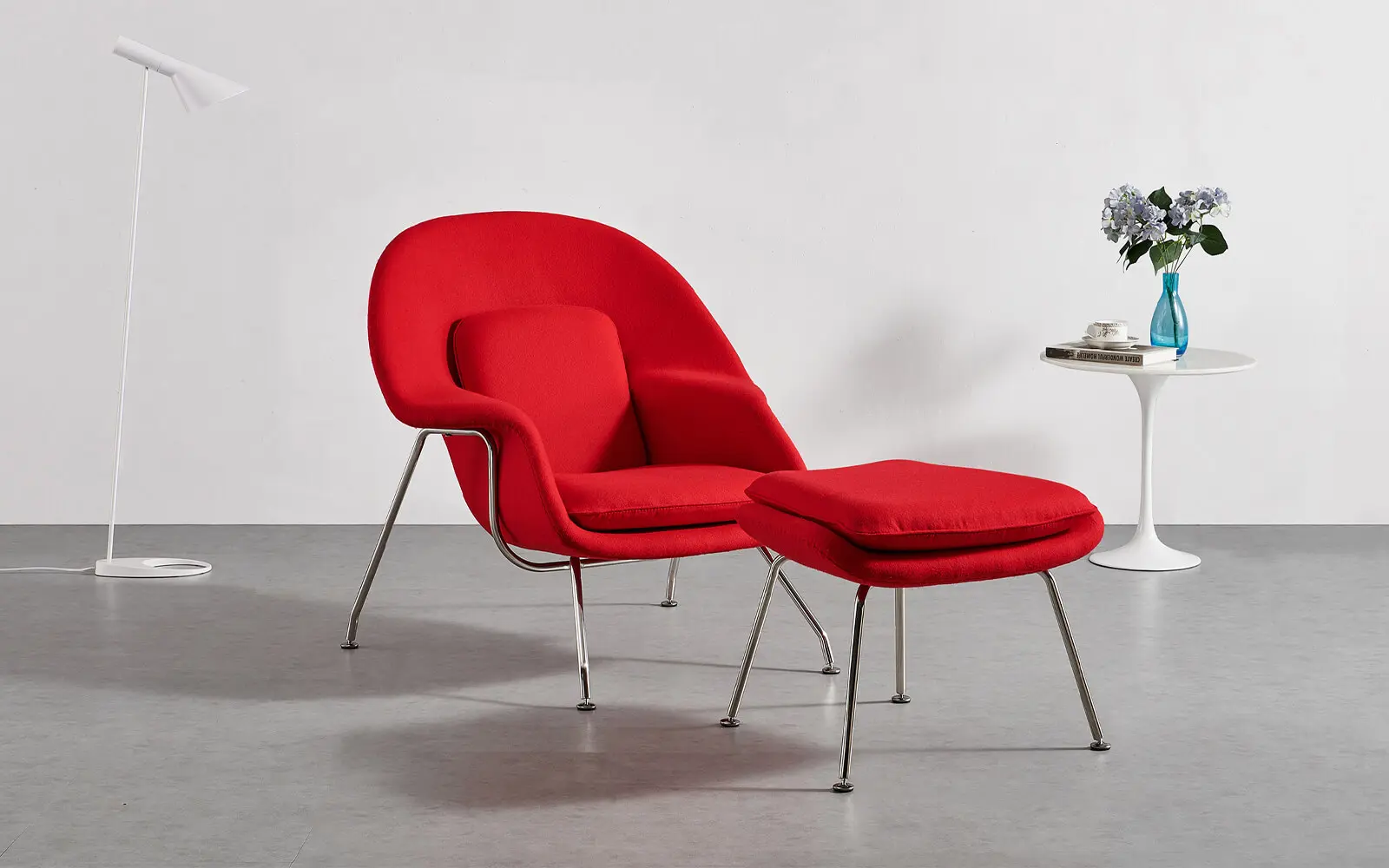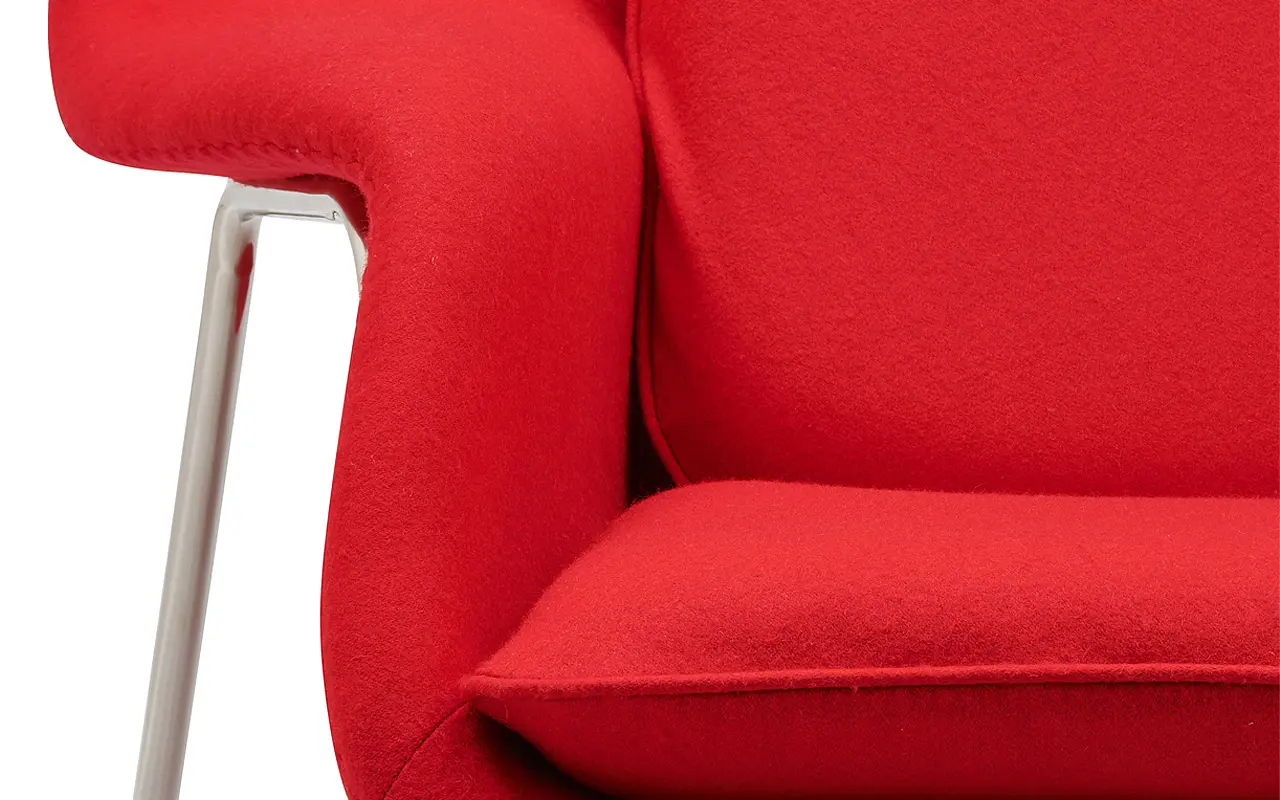 Premium quality reproduction
With an instantly recognizable shape, our chair is not just an aesthetic element - every line was carefully designed to ensure both beautiful appearance, but also the exceptional comfort.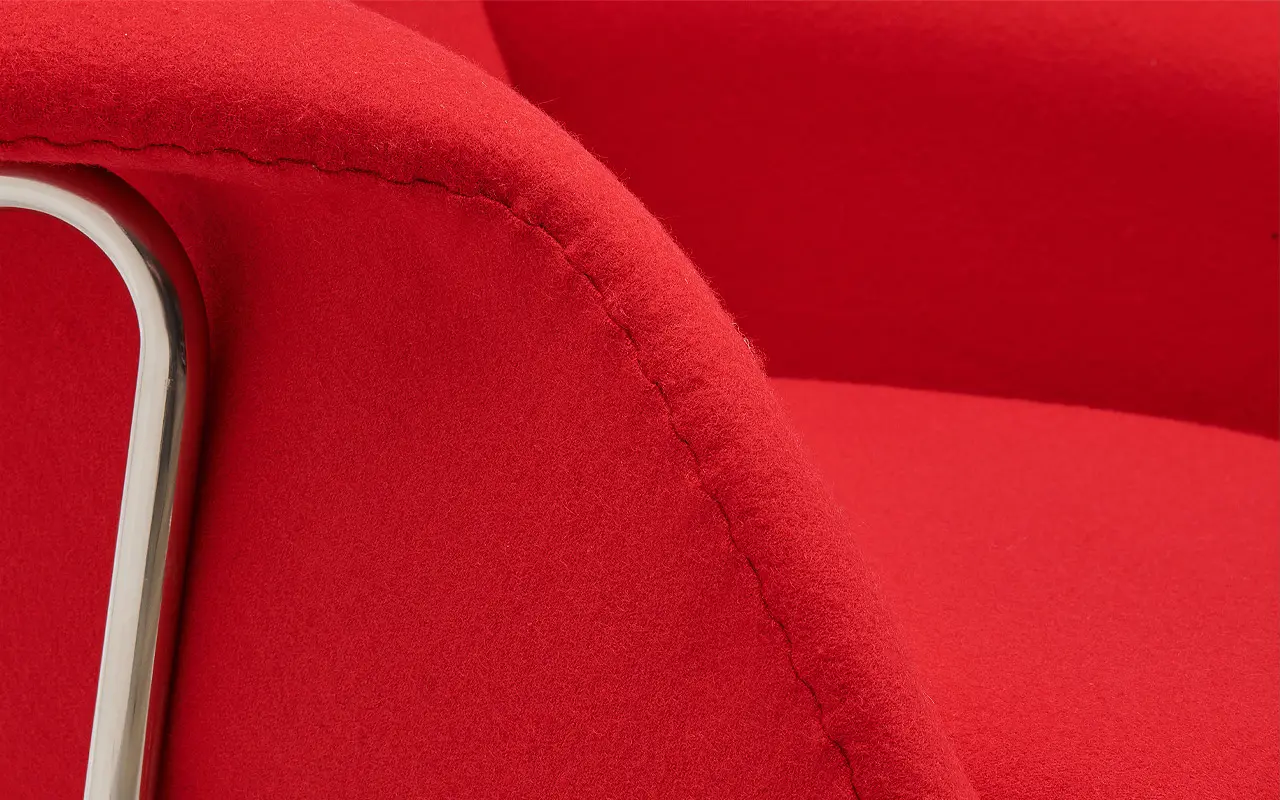 Lightweight and durable
With a comparably thin upholstered shell and almost minimalist stainless steel frame, our chair is a surprisingly light, but at the same time exceptionally durable design and a perfect fit for a modern home.
FAQs
Do you need an ottoman for your Womb chair?
As an amazing add-on to the existing chair ottoman can surely be the missing piece you need. If you are a reading type of person or just someone who loves to rest a lot, this ottoman can come in handy in so many different ways. As it matters to the limited spaces, your womb chair can work perfectly even without it. Diversity in use is one of the ottoman's biggest advantages as it can be perfect for watching tv, reading, resting, or even eating the choice is completely yours!
What are the Womb Chair Dimensions?
Our Womb Chair can be a perfect fit for anyone who wants a premium quality type of chair. The dimensions of the armrests that will take care of any fatigue that you have perfectly coexist with the seat which gives an amazing massage-like feeling. In order for you to experience maximum comfort, our craftsmen wanted to make sure every single part of the chair has flawless measurements.
Is your Womb Chair a Replica?
Yes, our chair is a premium reproduction of the famous Eero Saarinen's model. Being inspired by the original we wanted to bring you the undeniable quality at an affordable price. Using Danish Cashmere Wool this chair is much more than just a standard decoration as it has been made with the purpose to last and provide comfort. With only the best of the materials, this chair is created to bring you maximum comfort, security, and aesthetics.
How long is your Womb chair on sale?
Our vision has always been to provide any modern home with high class furniture that is affordable. There are so many furniture pieces with amazing quality but prices so high it can be ridiculously expensive. In order for you to save your time and money we run all kinds of sales throughout the year. We do not have a concrete answer for this question but there is a great possibility your Womb Chair is on sale right now. Grab your chance today!
Where to buy the Womb chair?
As a very popular and influential chair, it can be bought at various places including online retailers such as eBay. If you are looking to get an affordable chair you will quickly come across a number of questionable quality replicas and knock-offs. The vintage replica is rather pricy so these alternatives are often pursued by people who don't want to get too hard of a hit on their valet when getting this mid-century chair. Here at ByBESPOEK we hope to show that cheap replica doesn't have to be low quality. On the contrary, our premium replica that is on sale on our website is designed with quality as a priority. Our designers, engineers, and craftsmen worked together to come up with a production process that will allow us to eliminate excess materials and unnecessary costs while retaining the quality and all the features of the original. The result is a flawless replica that matches the original down to the smallest detail while being available at just a fraction of the original price. But if you are still unsure about our replica and how it compares to the original we suggest checking out the reviews - we are confident that we will put your worries aside.
How to style your interior?
Our chair is highly versatile and it can be easily incorporated into a majority of contemporary interior design styles, including mid-century modern, Scandinavian, minimalist, and even eclectic or industrial. With its imposing form and unprecedented comfort, this model is a favorite of most design enthusiasts. With a variety of upholstery options and colors, you can find the one that fits your personal preferences the best. For a more subtle expression if you don't want your chair and ottoman to take too much attention we recommend dimmer and more neutral shades. But, if you want it to be a centerpiece of your living room, then some more color options like a color red or baby blue might be a better option. Regardless of your exact preferences when it comes to style and decor, Womb chair and ottoman premium reproductions on sale at our website are sure to meet all of your demands and into your living room.
How to clean and maintain my Womb Chair?
You can always start by using a cashmere detergent then gently blot it on a certain spot. After letting it soak for 5 minutes in water that is slightly colder than the room temperature repeat the same procedure for drying. Easy work!
What is the chair's history?
The Womb lounge chair was born out of Florence Knoll's desire to find a lounge chair that is not long and narrow, and hence restrictive and 'one-dimensional' as the famous designer and architect said back then. Instead, she wanted a chair in which she could sit sideways or whatever way she wanted to – in other words, she wanted a lounge chair for the new century. This passing suggestion caught Saarinen's attention and in 1946 he set out on a journey of creating a lounge chair that will meet these requirements. While the prototype was called simply No.70, Saarinen eventually decided to name his design Womb chair, inspired by the psychological theory popular at the time, stating that the majority of people never felt comfortable and secure after leaving the womb. Moved by his life-long dream of creating a single-piece chair, Eero Saarinen started experimenting with novel materials and techniques. His pursuit of suitable solutions led him to maybe the unlikeliest of places – the shipyard. Inspired by the contemporary approach to shipbuilding, Saarinen designed a fiberglass shell positioned on a polished chrome steel frame which ensured stability and flexibility at the same time, with a rather simple, yet elegant design. The chair and ottoman were then designed along the same lines in order to put additional emphasis on comfort which was always the number one priority in the design of this mid-century modern masterpiece. The ottoman's height is also very close to the seat height of the chair which makes it perfect for leg rest. While the variety of color options provides versatility danish cashmere wool makes sure you are always comfortable when relaxing. The chair was designed with the following dimensions – width of 41.73 inches, a height of 36.22 inches, and a seat depth of 37 inches, which makes it perfect for any modern living room. The matching ottoman comes with a height of 16.53 inches and a width of 20.47 inches. The chair'ss history at the same time exemplifies Eero Saarinen's approach to chair design and modern furniture. The same minimalist approach and focus on ergonomics and functionality can be viewed in many of his other designs, even as different as his single-base legless Tulip dining chair. It is also important to note that the original piece was designed for premium cashmere wool upholstery, but soon after the model went into production in 1948, leather chair womb appeared and became an instant hit among mid-century modern designs. Another important part of history is the public's fascination with this model – which seems to indicate that Saarinen managed to fulfill Knoll's requirements and in the process, he created a perfect chair for the modern home. A Coca Cola advertisement from 1958 depicted Santa Claus drinking Coke in a Womb chair and another public appearance of this model was on the cover page of Saturday Evening Post.
Reviews
Based on 200+ reviews
Read more reviews
I love the stool :)))
I bought the Womb chair with a stool and it's so comfortable. What I also like very much is how great the aesthetics fit in with the interior.
Caesey
Great service
Courier delivered my chair two days ago and I must say one thing. Very comfortable chair! Also looks amazing. I live on the third floor so it was very kind that the delivery boy helped me get it inside. Red color looks lovely.
Sigurd
I love the chairs.
So elegant, the blue version of your Womb chair is amazingly fitting for my living room. I was a bit annoyed with the assembly but it wasn't so hard and I had an assembly as well so it was fine. Will order more chairs in the future for sure.
Amanda
Very comfortable
I have an older wife who really needs a good chair for sitting. It needs to be comfortable, but at the same time aesthetically pleasing. We really liked the Womb chair in blue color but what made the day is the ottoman or the stool that came with it. She needs to put her legs in somewhat of a comfortable position and we are more than pleased with how it fits her.
Sam
Great color!
Quality is really on point guys. Would like a bit more colors and variations but I like my Womb chair.
Jeremy